Cross the Gap
Made for the 8 Bits to Infinity -GB30 Game Jam
To celebrate the 30th anniversary of the Game Boy this jam has us making a game in the style of the said Game Boy.
Theme: "It's dangerous to go alone..."
Cross the Gap is a short tile movement puzzle game. You control both players and must get them safely to the door on the other side. Because if you only make it with one you will be alone... and that's dangerous.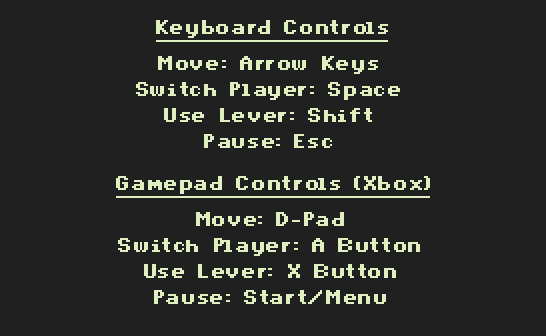 Music ©2019 Joshua McLean (mrjoshuamclean.com) Licensed under Creative Commons Attribution-ShareAlike 4.0 International
Sound FX made by:
CactusBear
DaneReid1024
Download
Comments
Log in with itch.io to leave a comment.
It is a very nice game! I love the gameboy style and also like your video about the development.
Pretty fun game, I solved all of the levels. Only critique is that the key largely obstructs the view when you collect it. Also, nice to see the video on you developing it and then playing the game.
really enjoyed playing this game <3
Really fun game, would love to play more levels! This game has a lot of potential and it could also be a fun two player game. The music and art style is very nice and overall a very fun and enjoyable game :D
I don't know if you've heard of Game Development World Championship before (gdwc2019) but it's a competition for indie game developers where they can submit their games and it's free! It's great if you want some more visibility for the game and it only takes a couple of minutes to join :)
First let's play on this game.
I thoroughly enjoyed it!
Nice, simple and to the point. Theme well applied!
Enjoyed this a lot! Very polished game.